Fall Family Mini Sessions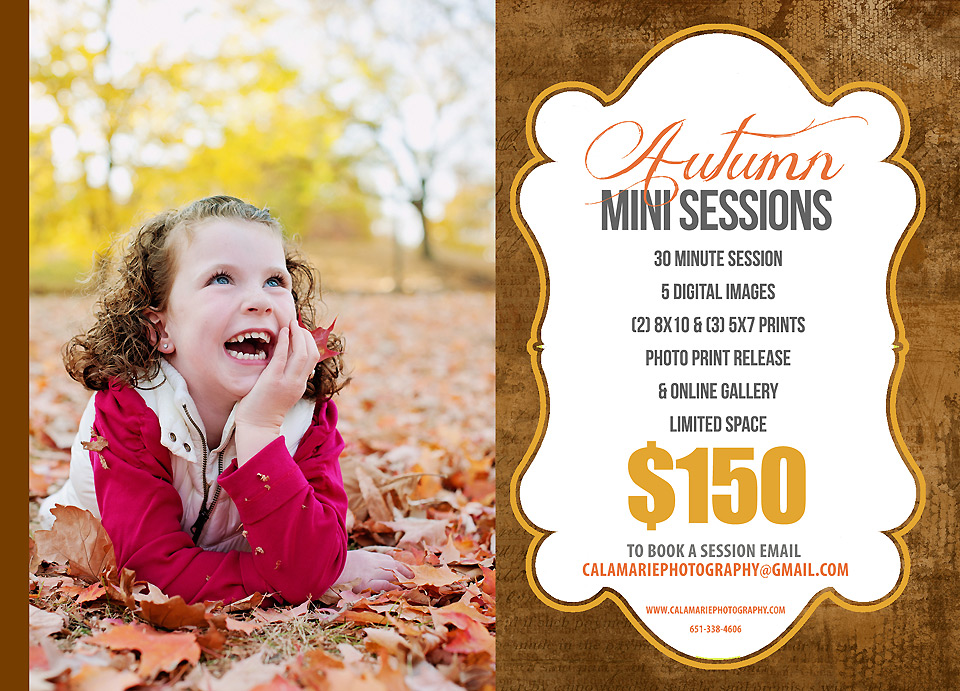 Fall Mini Photo Sessions
Would you like to get a jump start on your personalized Holiday cards this year?  It's hard to believe that fall is already here and it won't be long until Christmas. Yes! It is already that time to start thinking and planning your holiday cards. I am pleased to offer "Fall Family Mini Sessions" for the next few weeks. This will be a great opportunity for not only getting your family pictures updated but also for the holiday cards as well.
These mini sessions are being offered on select dates and on specific locations.  These are great for holiday cards!
The following dates are available at this point and more dates may be added.
September 27th, September 28th, October 4th, October 5th
What's included?
30 minute session
5 digital images with print release to make unlimited copies
Online Gallery
My goal this year is to have more pictures of my family printed instead of just saving them on my hard drive.  I think it is so important to have your pictures printed and framed on the wall so at this time, I will also include the following prints FREE to you as a bonus.  They could be five of the same prints or five totally different images!  You choose.
(2) 8×10 prints
(3) 5×7 prints from a professional photo lab
Cost: $150
The location of the photo shoot will either be in Woodbury, a park in St. Paul or in Maplewood area.   Please e-mail me at calamariephotography@gmail.com for the exact time and location of the photo shoot.